Affiliate Marketing Networks (For Your Online Business)
Here are 4 Great Affiliate Marketing Networks to check out!
Commission Junction – ShareASale – Amazon Assoc.-Awin

Great Programs for your Online Affilaite Business.
Affiliate Marketing is an amazing way to break into the Online World and start a new Business. This is a great multi-billion dollar industry that allows a person to monetize their website or blog, unless of course if you have your own products and services to sell. There are many Affiliate Marketing Networks to choose from all with different programs that you can sign up with.
If you have a content rich website with great traffic, then there are many affiliate programs and affiliate networks available on the web that can make you money. If in fact you monetize your website with a great affiliate program, you can make a lot of money with very little effort, even while you sleep, and this my friend is called PASSIVE INCOME!
Here are a list of some of the Great Affiliate Networks and some information about them.
1. Commission Junction – CJ Affiliate
Commission Junction, CJ Affiliate by Conversant (or "CJ") has been around for nearly 15 years and is one of the largest affiliate marketing programs out there. Boasting more than 3,000 merchants, CJ is known for having more big-name companies, like Home Depot, Apple, TurboTax and Boden, than other top affiliate programs.
Depending on your business, their extensive network of prominent names can be a positive or a negative due to heavy competition. As an affiliate publisher, you'll likely see a lot more competition, and you need to be approved by merchants to become an affiliate, typically, your website is held to a higher standard and must be quite professional and polished.
CJ Affiliate is free to sign up, and provides an ability to choose more different advertisers and more specific products than other programs.
Commission Junction is a pioneer in digital performance based marketing. It provides a solution for mobile publishers to monetize their apps and be paid for action they specify, like app install, account register inside an app, in-app purchase of a product and so on. The solution features sophisticated tracking system to track actions within a mobile website or a mobile app, mobile optimized links and comprehensive insights reports.
Founded: 1998
Headquarters: Santa Barbara, US
Offices: US, UK, Germany, France, Spain, Sweden and South Africa.
Company size: 600+ employees
Contact: 800-761-1072 (headquarters)
Some Great Affiliate Programs within CJ are:
Stilla Cosmetics – 18%.Commission
Trivago – 100% Commission
Volusion $2000. Commission
Samsung 4-6% Commission
The Source.ca .5-2% Commission
Key Features
Web-based email offers direct communication between advertisers and affiliates
Notifies affiliates if a link or ad is no longer working
Provides updated lists of advertisers' incentives for affiliates
Search by publisher tools for merchants
Real-time reporting; performance and transaction reports
Flexibility to choose your advertisers and specific products
Reliable monthly payments through direct deposit or check
Invalid click report – publishers can easily see what advertiser links are currently inactive
Amazon Associates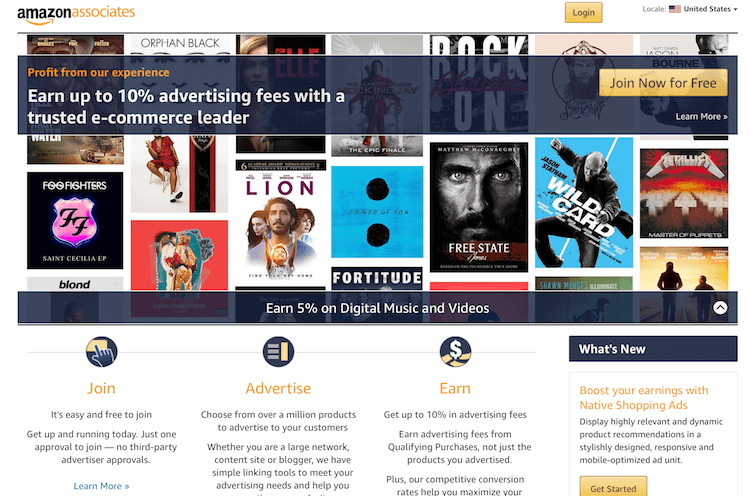 Amazon Associates is an affiliate marketing program from Amazon that allows marketers to monetize mobile apps they distribute via the iOS App Store, Google Play of Amazon Marketplace by offering the biggest choice of physical or digital products on the digital market. The major advantage of the platform is the Amazon's brand that stands behind it.
Founded: 2010
Headquarters: Seattle, US
Offices: Bangalore, India, Beijing, China, NY, United States,
Company size: 270k+ employee
Commissions – 3.0% for toys. Amazon tablets and Kindle devices: 4.00% 4.5% for paper books, healthcare, personal care, sports, kitctchen, car and baby products: 4.50%
2. ShareASale
ShareASale is another excellent program i the Affiliate Marketing industry since they launched in 2000. In January 2017, the company, along with their 4,500+ merchants were acquired by Affiliate Window, known more for their international and global affiliate marketing presence.
While their merchant base may not be as well-known as CJ, they still offer a wide variety of advertisers to meet almost any publisher's niche and even more so now that they've merged with Affiliate Window's 1,600 existing brands across 77 sectors.
In 2015, publishers generated 35.5 million in sales and $297.6M in commissions from Affiliate Window alone so you know they're highly successful in driving traffic and sales. The only thing you need to get started is a $5 payment for a security check and once approved will be credited back to your account.
Key Features
Search by sector, brand or keyword to find the publishers that are the right fit
Select from text links, widgets or product feeds/APIs to promote Plug-ins and browser extension tools to easily create product links into trackable affiliate links
Large database of trusted advertisers with worldwide presence
Payout available in multiple currencies
Multiple industry awards
Live chat and phone support
Global company, which could mean less individualized attention
No FAQ or general support listed on website
Twice monthly payouts with low threshold
Some Available Affiliate Programs available within Shareasale are
Grammerly- 20% Commission
Deluxe Business Products – 10-30% Commission
Sally Beauty 5% Commission
Awin
Awin is a top affiliate marketing network with a mission to connect advertisers and affiliates of all sizes. With AWIN publishers Affiliate Marketers get a chance to promote products of top brands and leverage their established brand awareness and trust. Awin is a global affiliate network.
Founded: 2000
Headquarters: London, UK
Offices: Stockholm, Sweden, Warsaw, Poland, Milano, Italy, Sydney, Australia, Los Angeles, US, Chicago, US
Company size: 800+ employees
Contact: +49305096910
Some available Affiliate programs within AWIN are
HP Canada, 3% Commission
HP USA – 2% Commission
Cheap-o-Air $5.-$25. Commission
Tripadvior – 50% Commission
Apple Vacations – $72.00 Commission
Etsy – 5% Commission
Check this link to SEARCHABLE NEW AFFILIATE PROGRAMS
View my other Post below regarding a New Affiliate Program offered within Wealthy Affiliate for further information on How you can get started in the Affiliate Marketing Onine Business Today!
FREE AFFILIATE MARKETING TRAINING PROGRAM – ITS NEW AND YOU ARE GOING TO LOVE IT.
My Name is Susan and I want to help you Succeed with your Online Business!